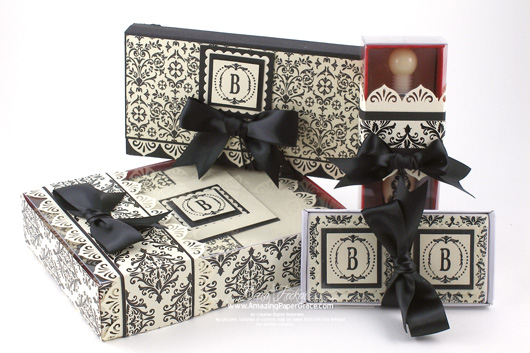 Let's see . . . go get coffee . . . plop down in studio . . . cup chin in hands . . . daydream a little . . . look up after an hour of wondering what to make next. Lightbulb! . . . where is that bag of stuff from the $1.00 bin at Michaels? Ah, there it is . . . bliss.
This is what I did yesterday. I had a project all planned out but I just wasn't feeling it enough to launch into making it. I took a detour instead with some items I bought several weeks ago with a JustRite Monogrammed Writing Ensemble in mind. This was a delightful project because it was extremely inexpensive, all the embellishment was fun and the addition of THIS JustRite set for monograms gives it that perfect polished touch I was looking for.
The purchased items here are the boxed pen, the boxed tiles, and small accordian file which originally had a bright fruit cover, and one package of four file folders that match the boxed pen. File folders? Don't you see them? That's what I used to make the box holding the cards and the two belly bands on the boxes. Okay that's four items and you know where I purchased them, so besides adding the ribbon and design paper you can see what I have tied up in this project.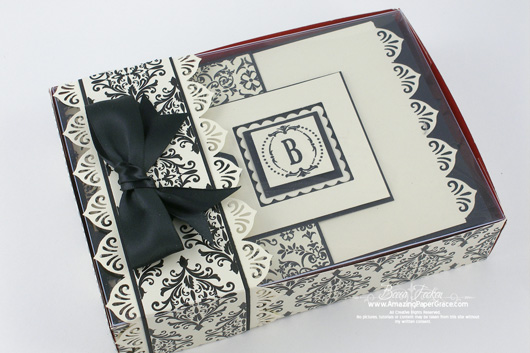 The main item is the monogrammed note cards – I made a set of six. For some reason I always prefer top folded cards and this week I've been pleasantly surprised at how much I'm liking side fold cards. This is a side fold card that leaves much of the inside layer exposed so I thought I'd pretty it up. After designing the layout of the card I knew that adding a small, crisp, one letter monogram using JustRite Damask Centers and 60 Point Font, would be a fairly clean look. It's hard to tell in the photo but the monogram sits inside a small square frame that I have popped up – then the last tier (the "B") is popped up. Below is a picture of the card set unboxed.
I get the question in email all the time in regards to what JustRite set to start with. My advice is this set is a perfect first project – it gives you a great feel for the stamps, how they fit into the mounts and they sure stamp up pretty!!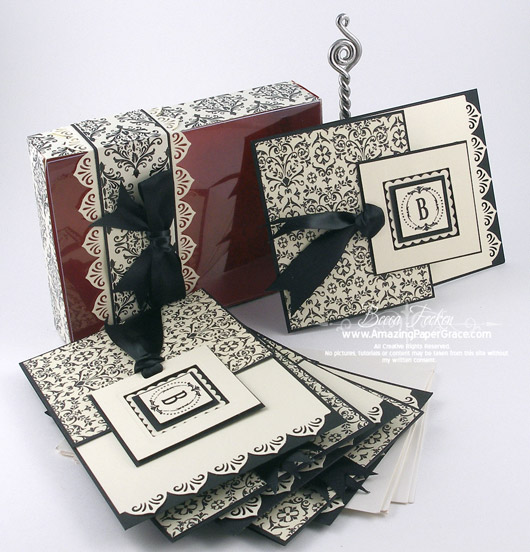 The cards are all 7" x 5" and I just used standard cream colored greeting card envelopes to pair them up. No mystery to the box – it is the dimension of the card plus 1 1/2" on each side. The nice weight of the file folder made the box super sturdy and since the file folder was double sided, the inside of my box is a shiny red :-). The top of the box is made with a sheet of acetate. I cut just a tad smaller than the bottom then scored 1 1/2" in on all sides, folded and taped it up. It made for a lid that would fit just inside the bottom of the box. The box itself used one file folder and one 8 1/2" x 11" sheet of acetate. The belly band is made using a small strip of a second file folder.



The accordian file was an easy embellish item. It was a bright color to start with so I measured, cut and covered it with black card stock. Once the black was in place, I then embellished with left over pieces of design paper -a monogram, border and bow finish it off.

Below is the pen set. I simply put a belly band on the box. For the (magnetic) tile set I simply embellished with monograms. The magnets are recessed so these can be used as magnets or as paper weights.

Ensemble Supplies:
Stamps: JustRite Wood Stamper 1-3/16" with 3 Bonus Damask Centers & 60 pt Font Round 1-3/16"
Paper: K & Co., Strathmore Art Paper, 1 Clear Acetate Sheet (for lid of box), Michaels Decorated File Folders from $1.00 bin (for bottom of box and for all belly bands)
Ink: Versafine Black Onyx
Accessories: Spellbinders Classic Square, Spellbinders Scalloped Square, EK Success Moroccan Lace Border Punch, Purchased $1.00 Bin Items – Boxed Tiles, Boxed Pen, Ribbon
This was totally fun. Now that I have my layout in mind, it will take no time to sit down and make additional sets. Okay one Christmas present done, a kajillion to go! Have a great day friends and thanks so much for stopping by!