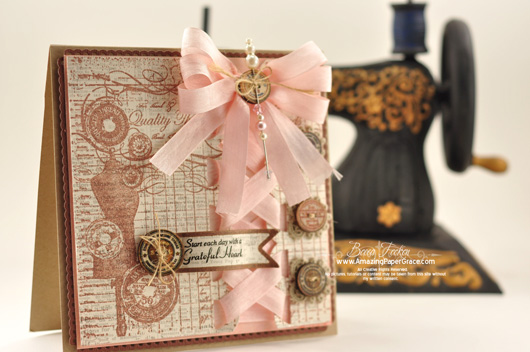 Good morning sweet blog friends?  Remember the new stamps I mentioned that were on the table?  This is one that floated to the top just begging me to play with.  Wouldn't it be precious as a sewing journal or a box that holds spools of thread?  It's a sweet vintage background stamp from JustRite Papercrafts called Grandma's Attic Background Stamp and that wonderful, wonderful sentiment comes from the Vintage Rose Medallions set.  I have a million ideas for this stamp and today my muse steered me towards a card. Hmmmm…those might have to jump up a little bit on my to do list.  Since the background is the focal point, I tried to think of a way not to cover to the image and I came up with this format.  Wanting a 6″ x 6″ card (actually this one is more like 6 1/4″ square), I stamped the background image, cut through it with Spellbinders™ Classic Scallop Edgeabilities.  I stamped another image, cut with the same Scalloped die template then trimmed off the right side to get the correct width.  I then took my seam binding and divided a 18″ piece in half and criss-cross threaded it beginning with the center at the bottom, and ending by tying a bow at the top – it reminds me of a laced up corset :-).  Because the card is so large to start with, I wanted a teeny tiny border to put around the edge for some contrast.  Using the bottom of the border from Spellbinders™ Persian Accents I faced the tiny scallop side outward on each edge.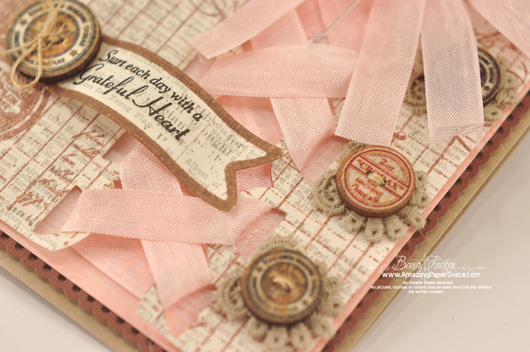 For the sentiment I used Spellbinders™ Nested Pennants; I stamped the inside of the die template with my Chestnut Roan chalk ink before laying my paper on top and running it through my die cut machine, that gives that wonderful pop of color border to the pendant.  I finished up by cutting apart some lace and using a single motif under each single wooden button.  I just love those Prima buttons – they sure help me out with the theme of my card!
SUPPLIES I USED
Stamps: JustRite Papercrafts – Grandma's Attic Background Stamp, Vintage Rose Medallions
Paper:  Die Cuts With A View, Bazzill
Ink: Versafine – Vintage Sepia, Colorbox Chestnut Roan Chalk Ink
Accessories: Spellbinders™ Nested Pennants, Spellbinders™ Classic Scallop Edgeabilities,  Spellbinders™ Persian Accents, Prima Wooden Buttons, Seam Binding, Pearl Pic, Linen Thread,
Additional Ideas:  JustRite Gallery,  Spellbinders Blog

I hope you have a very special weekend planned.  Just like the sentiment of my card today, I have a grateful heart for each new day and I'm especially grateful for the time you took to stop by today.  Smooches – I'm working in the background on some things you all asked for!!