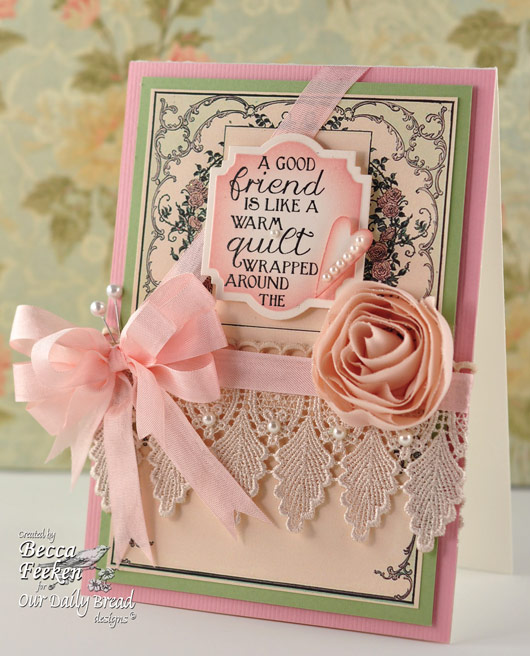 Good Monday morning friends!   Well today "Should Do" and I had a little talk.  It seems that "Should Do" doesn't feel like it's been getting enough attention.  I felt overwhelmed by this accusation and looked back for support from "Wanna Do"  whose arms were crossed doing anything not to meet my gaze.  In the meantime,  "Gotta Do" was absolutely glaring at me with those piercing eyes.  Ugh . . . they all have quite the competition in my house and I have to admit that "Wanna Do" has been getting an awful lot of my time.  (Rolling eyes). . . they.are.so.needy!!   All that to say, I have a quick card today, but "Should Do" kept interrupting me to the point I probably got rude and as we speak is in the corner pouting.  "Gotta Do" has finally made me feel so guilty that we're going to spend some alone time together this afternoon.  "Wanna Do" is gloating as I post this card.  So, I'll run through this quickly so that I can get on with my appointment with "Should Do" and "Gotta Do".  Oh the characters at my house . . . (Smile)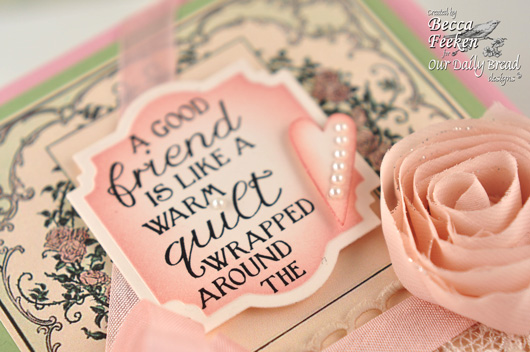 My card today is Mojo 203.  I pulled out one of my new Our Daily Bread Design sentiments to show off – this one is called Sewn with Love.  Lol, I'll never give up regular paper, after all then, what could I hoard????  But . . . I pulled one of the journal pages off of the Crafty Secrets Creating with Vintage Patterns CD using Photoshop Elements 9 and printed it to my color inkjet printer for an easy background then built the rest of my colors around that page.  (I erased the journal lines using my clone tool but in retrospect it probably would have looked charming to have left them in.)  My card is 5.5″ x 7.5″ and the journal page is printed out at 5″ x 7″ because I like big cards . . . it's just as easy to print this element out at 4″ x 6″ or at 3″ x 5″ :-)   Just sayin'

I use Photoshop for most of my editing and pictures but for digital papers Elements makes it so easy; it has an organizer that I just love and all that without the Photoshop price tag.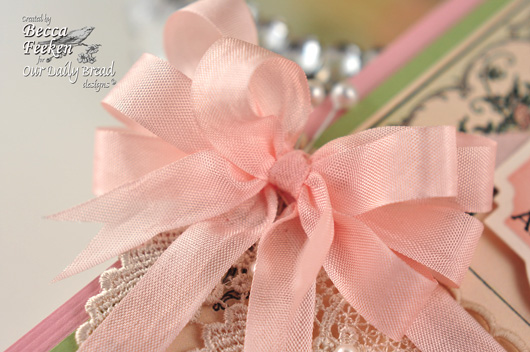 I stamped my sentiment on Spellbinders Labels Twenty Two, omitting the word "heart" (it was too long), then added a punched heart to get my thought across.  I smudged the sentiment with Tattered Rose Distress ink while still in the die.  The journal page really carries the card because the only other things I added were lace, seam binding and pearls.  I love a quick card on Mondays!

SUPPLIES I USED
Stamps: Our Daily Bread Designs – Sewn with Love
Paper: Crafty Secrets Creating with Vintage Patterns CD, Bazzill
Ink: Versafine – Onyx Black, Tattered Rose Distress Ink
Accessories: Spellbinders Labels Twenty Two, Lace, Seam Binding, Pearls, Heart Punch

Thanks so much for stopping by.   I've cleared off enough of a space on my craft table that I'm actually looking forward to sitting for a spell :-)  See you tomorrow.