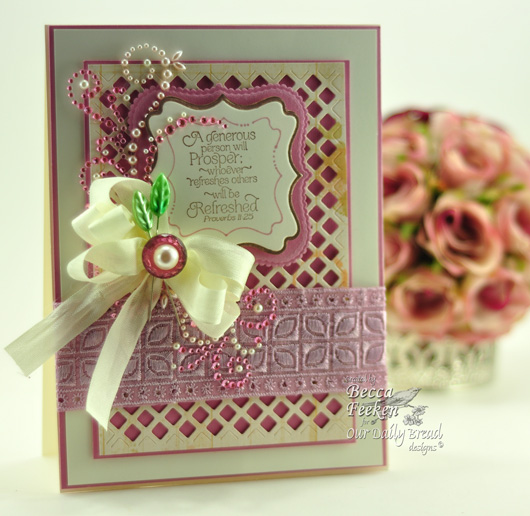 Sweet blog friends, thanks for your kind words yesterday.  Really, I'm okay, it's just something I wanted to share.  I hope I didn't sound condescending because make no mistake, I have been guilty of needing to be pruned from the garden in some cases.  I try my hardest though!  Now, with that said, I'm peeking in because I had a chance to create some things yesterday and I'll even have a post again tomorrow!  Now that the new Spellbinders are making their way out, I can use them to show you how they lay on your everyday cards.  I have a little secret for you – you are going to love the lattice I used today – I know I do.  Here's what I did – I laid down my die template face up, then a piece of wax paper, then my paper.  It.cut.like.butter!!  I have my old Wizard sitting off on the right hand part of my work area and I took my template (face up)  that is now filled with little tiny square scraps of paper and quickly rapped it on the metal bar – like the quick snap you'd give when hitting bug with a fly swatter.  (I know that seems an odd way to describe, but that's the only thing I could equate).  That makes all the pieces come out at once and I can sweep them up later.  I've gotten very good at this little maneuver out of necessity – I am always drawn to the more intricate die templates and now I'm able to move through my cutting tasks quickly.  Now I'm not saying you need to do this – I mean, you could risk damaging your template – but I'm happy to share how I unseat all the confetti. (Lol, lots of you already know this little trick ;-)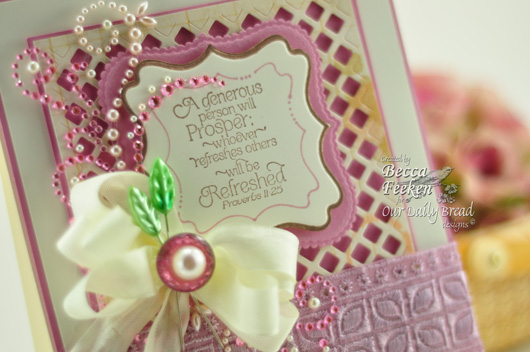 For my card today I'm using a sweet set from Our Daily Bread Designs called Thank You - ah, the wisdom of Proverbs!  I took a marker and outlined the inside of it  to get the drawn pink frame, then I covered my die template with ink and reseated my diecut for another run through the machine for the brown border.  I layered my sentiment on the new Spellbinders™ Scalloped Labels One (New).  As I mentioned before, I used Spellbinders™ Basic Lattice (New) as a backdrop layer for the card.
SUPPLIES I USED
Stamps: Our Daily Bread Designs - Thank You
Paper: Neenah Classic Crest – Natural White – 80lb, Bazzill, Die Cuts With a View – Garden Tea Party
Ink:  Amuse – French Roast
Accessories:  Spellbinders™ Labels Sixteen, Spellbinders™ Scalloped Labels One (New),  Spellbinders™ Basic Lattice (New), Seam Binding, Bazzill Button, Leaf Pins – Joanns, Ribbon, Recollections Bling, Darice Pearl
Another rainy day here, but another full of calls from sweet friends and a shining "son" – blessings too many to count. Thanks for stopping by, see you soon!!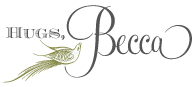 Find more like this: Our Daily Bread, Spellbinders