Psst . . . my giveaway this week is more Girls Paperie paper. Irresistable! You can click —->HERE<—–to get to the post where you leave a comment to enter.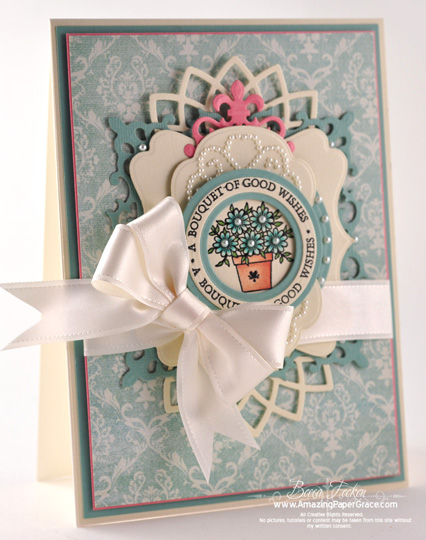 Hi there friends!  I'm back to share a new card using the newest releases from JustRite Stampers; this one is called Sending You Sunshine.  How cute is that, right?!?  I love the clean graphics on this set, they color up very quickly (in minutes) and let's face it there are always times we want to reach for a set for a quick card.
This one is quite layered, but you know that layering is my comfort zone.  Just in case you want to copy or know how I layered the medallion, here's what I used.  Starting on the bottom, I used Spellbinders Lotus Pendant, cut in half and trimmed some off the sides so that I was only using five peaks.  Then I used, Spellbinders Fleur de Lis Squares, followed by Spellbinders Labels Sixteen.  (Most of my layers are all separated by low profile foam tape.)  The next layer is a circle made using Spellbinders Standard Circles LG and Standard Circles SM.  On top of that I layered Spellbinders Labels Fourteen.  My next layer is the small circle that the flower pot is stamped on.  Had I not used Nestabling on my layer below then I could have stamped directly on Labels Fourteen (more about that in a second).  Lastly two circle frames both made using Spellbinders Standard Circles LG and Standard Circles SM.  After I had the whole medallion assembled, I went back and added the decorative piece from Spellbinders Fleur de Lis Doily Accents and secured it in place with glue dots. 

Okay, back to the bling I used on Labels Fourteen.  I wanted something just to break up the alternating colors in the layers so I pulled this middle accent off of my Want2Scrap Nestabling sheet.  You will notice that it matches perfectly with Spellbinders Fancy Tags Two but there is nothing to say that you can't use them on another shape or simply free standing.  These are just dazzling and the motif fits well under my circle and on top of Labels Fourteen.  These can be cut and used as your heart desires, so I foresee lots of use for these within my little pearl and gem addiction, lol!!

I have a quick Becca Bit to share with you today, by request, about the pearls I use on my cards and a tip on placement:
SUPPLIES I USED
Stamps:  JustRite Stampers – A Bouquet of Good Wishes
Paper: Pink Paislee, Coredinations, Bazzill, Strathmore Acrylic
Ink: Versafine Onyx Black
Accessories: Spellbinders Lotus Pendant, Spellbinders Fleur de Lis Squares, Spellbinders Labels Sixteen, Spellbinder Standards Circles LG, Spellbinders Standard Circles SM, Spellbinders Labels Fourteen, Spellbinders Fleur de lis Accents, Want2Scap Nestabling Fancy Tags Two, Pearls, Ribbon

If you are out and about, here are some other JustRite Design Team members showing samples today:
I appreciate every day that you stop by!!  Thanks so much for weighing in with me – you keep me connected, and these days, that's a good thing :-)