Happy Valentines Day my sweet friends!  I am getting the queen treatment today but wanted to stop long enough to get some blog business taken care of.  At long last I've finished the Woven Lattice Tutorial!  Yay!  Even though I have used it here for Valentines Day, it will also be perfect for Easter.  I originally created the Woven Lattice in December 2009 and could not figure out exactly how I did it.  Well, I've figured all that out now and in the making of video created quite a few panels.  I can do it fairly quickly now so I created a basket and companion card to give to my Hubby today.  When I was thinking on what to do with the panels, I knew that I wanted to use this stunning Waltzingmouse Stamps set (called Seasons of Love) featuring a filigree heart (before it was too late – whew, just in under the wire :-)  Claire's stamps are truly magnificent and this set is no exception.   I love, love, love the accent stamps like the little heart flourish that I was able to put on each side.
I created a box with a large scallop for the lid – I'll share the template as soon as I can get it down on paper.  Under each large scallop I used Spellbinders™ Petite Scalloped Circles LG cut in half.   For the body of the basket  I used Spellbinders™ Scalloped Edge Frame and created four of the Woven Lattice Panels.   I used the large heart on the basket and cut it out with Spellbinders™ Classic Heart – I also used Spellbinders™ Classic Ovals LG to cut out the center oval.   For the matching tag I used Spellbinders™ Ribbon Tags Trio Two (with one end clipped off) to make a medallion that also includes Spellbinders™ Petite Scalloped Ovals LG.  Keeping it simple, just a tied ribbon around the body and the bow is perfectly framed by the hole in the heart.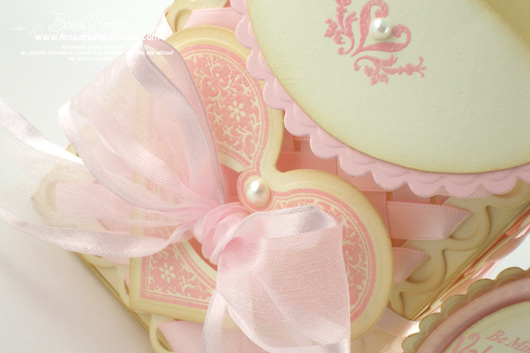 Lastly, for the handle I cut a long strip with a Martha Stewart border punch that I lined up to cut on both sides making the handle symmetrical (aha…answering this ahead of time because I know someone will email this question, lol!!)



I created a companion card to go along with the basket.  It's a side open card (which I rarely do) and It has all the same elements as the basket.  I reaaaaaallly got into making this set – ahhh the pleasures of stamping!

Project Recipe:

Stamps:  Waltzingmouse Stamps – Seasons of Love
Paper:  Bazzill, The Paper Company
Ink:  Martha Stewart
Accessories:  Spellbinders™ Classic Hearts, Spellbinders™ Classic Ovals LG, Spellbinders™ Scalloped Edge Frame, Spellbinders™ Ribbon Tags Trio Two,
Spellbinders™ Petite Scalloped Circles LG
,
Spellbinders™ Petite Scalloped Ovals LG
, Martha Stewart Border Punch, Pearls, Ribbon
So you wanna try?  Below I have a Guide that you can download that will serve as a roadmap of sorts to use along with the video tutorial.   A word of warning . . . this was a very difficult video to produce, I had to reshoot it more times than I care to admit.  Please look upon it with a kind eye, I am using the most basic equipment and I think I've stretched it beyond it's capability.  You may need to pause the video to read some of the captions because the text capability of Windows Movie Maker is severely lacking.
You can access the video tutorial here:
Now, on to the Blog Candy Winner! My goodness to sit and read the comments and the things you all have put on your list to do rather than dream about brought tears to my eyes several times during the week.  My daughter came up with the idea of the bucket list and I was afraid it might offend someone.  Well I was so wrong – you all just jumped right in and shared your hearts!  So….drumroll!!!!

Random.org picked #264
264 corresponds to Becky Johnson who said:
Congratulations!!!! You are truly an inspiration to many. That is your Gift. #1 on my list is to walk again. I have had MS 37+ years and was recently diagnosed with arthritis. We all get it sooner or later but it's a poor mix. I've walked until a couple of years ago so I'm lucky and God willing, I will again. I am always upbeat. And I'm a fighter. Your blog and all your creations are very important to me
and give me the inspiration I need.
Peace. Becky Johnson
Congratuations Becky – you are the winner!!  Please shoot me an acknowledgment through my contact page and I'll get your items in the mail to you.

Yes, this was a long post today, thank you all for hanging in there.  Be blessed and have a wonderful Valentines Day!
*