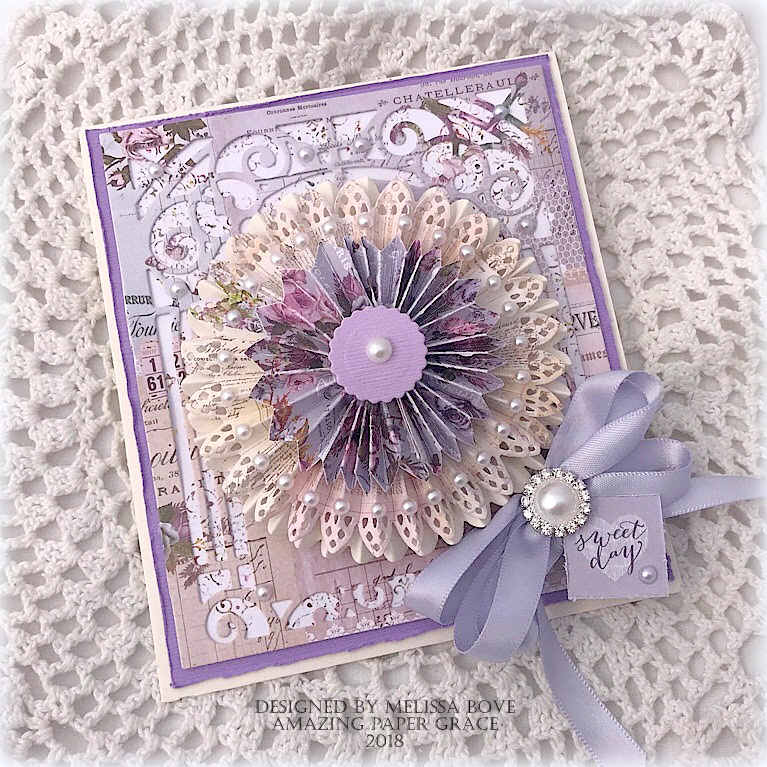 Good morning sweet friends!   Since the release of  Amazing Paper Grace 3D Vignette by Spellbinders it has been our pleasure to slip you a steady stream of ideas.  I'm tickled about the the virtual fountain of ideas that have sprung up – pure serendipity!  Today we are highlighting S4-869 Tiered Rosettes.  It's a special rosette because the way the die is designed – you determine the depth of the rosette, not the die – they are adjustable.   Need a rosette that is a mere 1/2″ – you can cut it that way.  Need a rosette that is 1″ – you can cut it that way.
The beauty of adjustable rosettes is that you can stack them, just like a petticoat.  Oh, and did I mention that there are three decorative edges?  This week the Creative Team shows some beautiful samples.  The card above was done by Creative Team Member Melissa Bove and more pictures follow below:
How It Works
It's a two step process:
Cut with the largest scored piece
Please note, it will cut on three sides and not release from the paper but will leave marks/indents that you will need for Step Two.
Pick your edge finish and line up on two indent marks adjusting to the depth you desire and cut with just the edge piece – this will release your scored, edged paper.
Fold along every other score line then flip and fold along every in between score line in a zigzag fashion.
We find that two scored, edged pieces makes a full rosette, so cut another and glue end to end, then close the end
Push down in the center and apply hot glue to hold or thread a thin wire or string through the holes to cinch the rosette in the middle.


3D Vignette Rosette Cards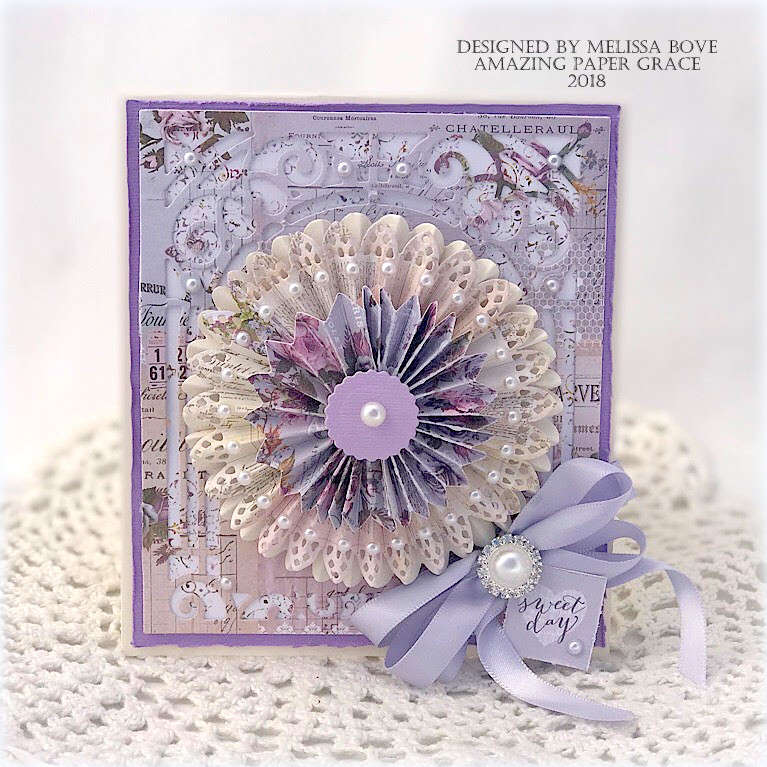 Melissa used:
Tiered Rosettes
Grand Arch Card



Joanna used:
Tiered Rosettes
Victoriana Crest









Judy  used:
Tiered Rosettes
Oh Happy Day
Cascading Grace
Hemstitch Ovals
Ornamental Crest


I hope you enjoyed a little inspiration today, thank you so much for stopping by!!