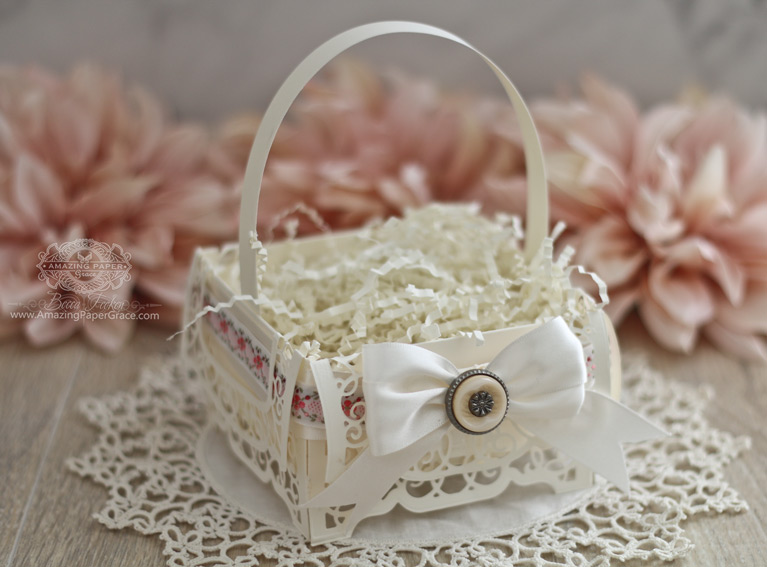 Good morning sweet friends!   So sorry that I teased this was coming on Wednesday but a change in plans displaced it to the later part of the week.  On the bright side, I think we have you covered if you need ideas for a quick and easy Elegant Basket or Easter Basket.  I issued a challenge to the Creative Team to think out of the box and take a shot at converting any of the Amazing Paper Grace 3D Vignette by Spellbinders dies into a basket – the results are truly spectacular!   Please be sure to follow links to each creative team members post  so you can get more pictures and details on their basket.   For my basket today I'm using the Grand Cabinet Card.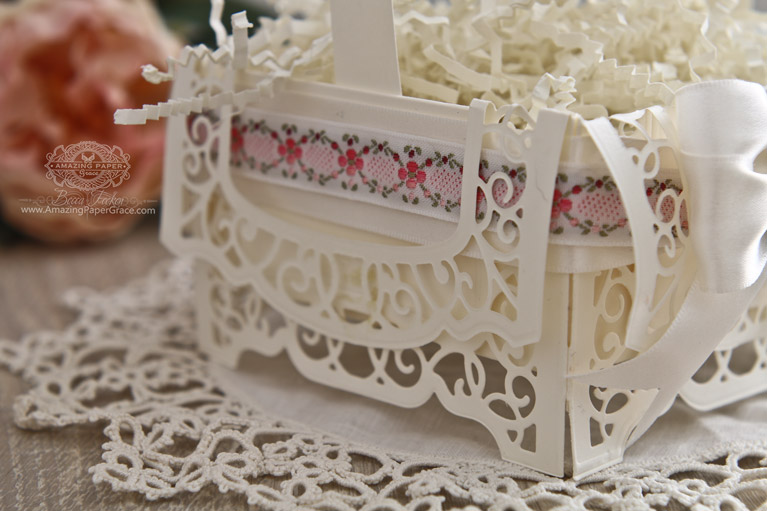 I cut four panels from the Grand Cabinet Base, glued the tabs together and taped along each seam and closed the basket.  As you might imagine, the bottom was open, so I created a box slightly less than 4.5″ on each side and inserted it to make for the bottom.  Then I cut a 3/4″ strip for the handle.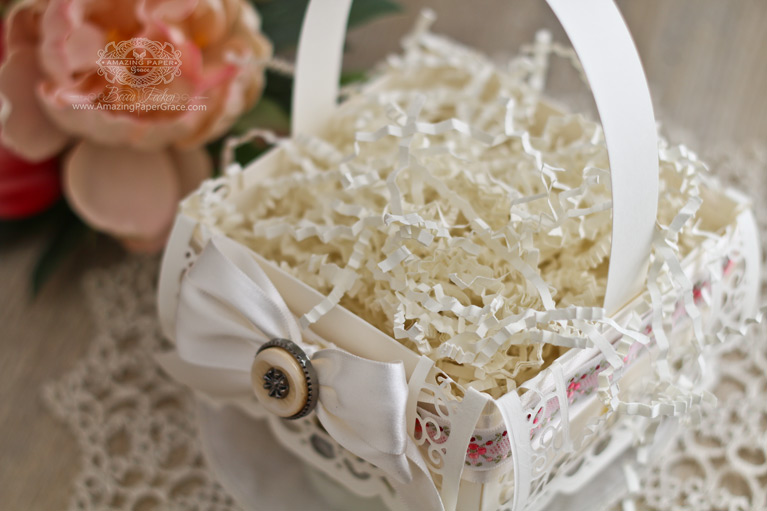 I put ribbon around the perimeter of the basket then folded the edges down.


Stamps:  None
Paper:  Neenah Classic Crest – Natural White – 80lb Smooth Cover
Ink:  None
Accessories:  Amazing Paper Grace Dies by Spellbinders, Grand Cabinet Card, Lace – Michaels, Satin Ribbon, Recollections Pearls


3D Vignette Grand Card Basket Ideas
Baskets are so easy!!  Pick out something attractive for a side, make four sides, figure out a way to glue them together and you are almost home free.  Take a stroll through our inspiration – you may even find something to make for a wee one for the upcoming holiday.
Grand Dome 3D Card
Petite Double Bow
Tiara Rondelle
Side panel from Grand Arch Card



Judy  used:
Grand Arch Card
Ornamental Arch
Graceful Tiny Tags


Melissa used:
Ornamental Arch
Petite Double Bow


Teresa used:
Grand Dome 3D Card
Petite Double Bow
Filigree Veil Etched Dies 
Cinch and Go Flowers III 



These work up quite quickly so I've made some mini Easter Baskets.  I hope we've inspired you today – happy creating!