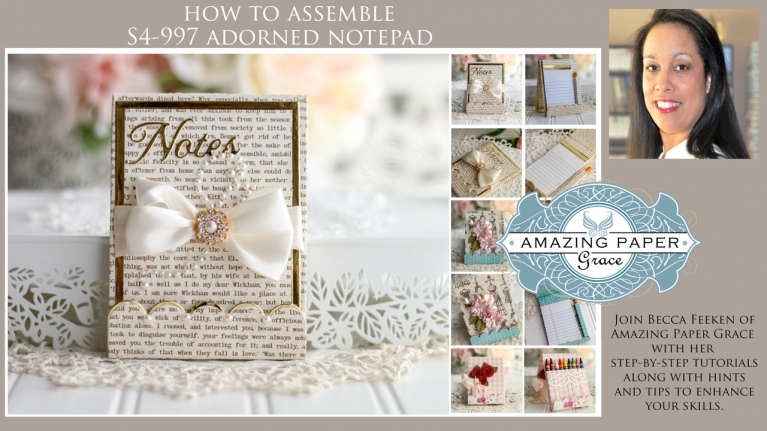 Good morning sweet friends!!  I have three videos to share with you today!  The first video is How to Assemble the Adorned Notepad, the second video is How to Assemble Cinch and Go Flowers and the third is a very short but cute video about National Scrapbooking Day coming on May 4th – hang in there until about the midpoint, you'll see yours truly at the end.  I laugh when I say that because me being on video is way out of my comfort zone but I'm getting there :-)
First things first, yesterday we announced and introduced a new collection – Vintage Treasures.  Don't forget to zoom over to —->THIS<—– post to leave a comment for the chance to win a die.  The Creative Team and I created a number of projects with the new collection and the inspiration is bound to give you some ideas for your next project.  In the meantime, I created with the Adorned Notepad.  My mind went crazy thinking about all the uses.  Today I'm sharing a video on how to put the basic pad together as well as tips for making a sturdy project and project ideas.  You can see the video below.
Many of you have asked for this, so below is a very, very easy way to use Cinch and G Flowers!  I have several sets of Cinch and Go and they are mix and matchable across the whole series.  I'm going to encourage you — especially if you think you cannot build a flower — give this a try.  You'll be stacking some lovelies that will look pretty on anything you make!
Last of all, did you know that National Scrapbook Day is coming – May 4th?  I was asked by Scrapbook.com to explain what Scrapbook and our papercrafts means to me – this is a lovely video with many faces you will recognize!  Scrapbook.com will be celebrating National Scrapbooking Day April 30th through May 5th.

As always friends, thanks for stopping by!!  Don't forget to leave a comment on the Introducing Vintage Treasures Post – we want somebody out there to win some dies!