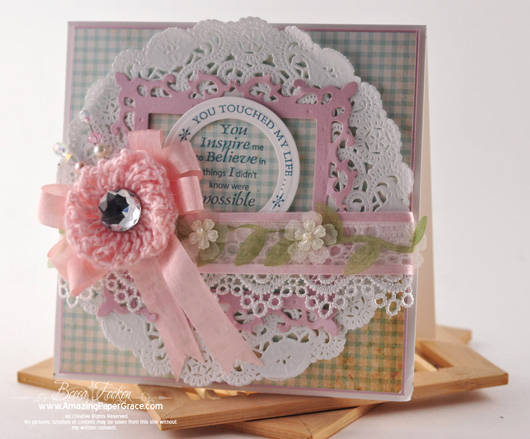 I haven't done a square card in a while, so that was the inspiration du jour.  So in keeping with the romantic, shabby look, I pulled out more of the Girls Paperie paper and put together another frilly, girly card.  How glad am I that doilies have made a come back?  I have a huge stash from several years ago, and now people don't look at you like you're crazy when you use them – I guess you could say that their time has come!!  Today I'm using one of the June releases from JustRite Stampers called You Are My Anchor.  Do you recognize it?  Oh, you thought it was a manly set?  Think again, you can sure flip this one.  Does anyone remember those Old Spice Commercials where the woman says "manly, yes, but I like it too!!"  Okay, so there you go :-)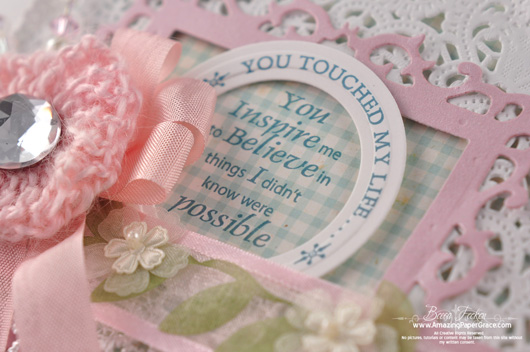 For the card I cut a hole in my 6″ doily and Spellbinders Fleur de Lis Squares using Spellbinders Classic Squares SM.  That gave me an opening with color instead of just white background.  Inside that opening I stamped my sentiment and added a framed circle using Spellbinders Standard Circles SM and LG.  I ran some lace across the square frame opening and topped it with some really cool sheer ribbon with flowers on it.  As a side embellishment I added a bow and topped with a yo-yo I crocheted and a large rhinestone.  I  finished up with two pearl/crystal pics.   Incidently, in real life the pinks blend much better than they do in the picture.  I think the lights I'm using are toward the red end of the spectrum which boost corals, pinks and reds when I photograph them (you know that drives me nuts).
SUPPLIES I USED
Stamps: JustRite Stampers – You Are My Anchor
Paper:  The Girls Paperie, Coredinations Pearl, Xpedx Brilliant White 140lb Cover
Ink: Colobox Chalk Ink – Prussian Blue
Accessories:  Spellbinders Fleur de Lis Squares, Spellbinders Classic Squares SM,
Spellbinders Classic Circles LG, Spellbinders Classic Circles SM
, Ribbon, Seam Binding, Crystal Brad – The Paper Studio, Pearl Picks, Crochet Yo-Yo (Me), 

Yes, I'm on a crochet kick lately because these little pieces can be done while I'm taking a coffee break.  If you are interested in the crochet yo-yo tutorial you can find it HERE.  I'm pretty good with crochet, but this was not the easiest – just sayin'.  Once you've made one, you are on your way.  I just have rarely come across treble crochet and treble crochet decreases.  Give it a try – you might get frustrated though if you are just beginning to crochet.  Thanks so much for stopping in to see me today.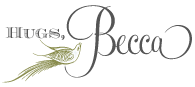 Find more like this: JustRite Stampers, Spellbinders, Stamping