Hi there blog friends, thank you so much for entering to win the free cases and magnets given away by TapeOnLine.  They are an awesome product, just at the time we need them to organize our craft rooms.  I'm so stoked about the new magnets and since I have quite a few cases to fill, I'm sure I'll be placing an order too.  Thank you for the lovely comments; it was great to see what's on your wishlist – most of the items I'm familiar with and some I'll have to go look up!  Well without further delay, I used random.org to roll the lucky winner and here's what we have:

Winner, remember to go to the contact page on my blog and submit your mailing address so that I can pass it along to the TapeOnline folks.  You have 48 hours before we begin the selection for an alternate winner.
 
I'm working on some projects in the background and boy have I had some week.  I'll fill you in later and hope to be back soon with something to show.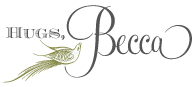 Find more like this: Blog Candy