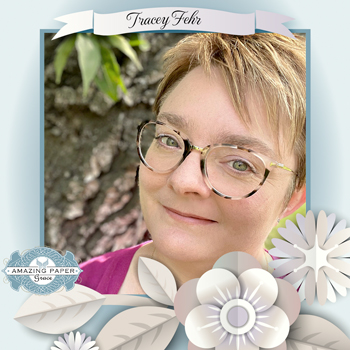 Hi there! My name is Tracey Fehr! I am a paper crafting addict who is beyond blessed and excited to be a part of the Amazing Paper Grace Creative Team! I am happily married to my husband of 26 years, and together we have two wonderful children…a daughter (18) and a son (16). I live in friendly Manitoba Canada on a small acreage where I love to putter in my flower gardens, watch the hummingbirds and enjoy spending time outdoors with my family, friends, and our numerous four legged fur babies. Needless to say…I'm always happy when our bitterly cold winters have passed and spring rolls in!
I have been a crafter for as long as I can remember…even in at a young age in school, it was Arts and Crafts class that I waited for with eager anticipation! Today card making and flower shaping has become my passion! All of my crafty creations are created in my small (and usually messy) basement craft room. But, the one thing I need to tell you about a messy craft room, is that I have learned this is where creativity blooms at its finest. While others may not be able to find things as they are somewhat strewn around at times, I manage to know where every scrap and embellishment are when the time comes to needing them. I love creating pretty, romantic, vintage inspired creations that make you feel like you've stepped back in time…you know the kind that make you think of simpler days gone by! I love the opportunities that a handmade card can bring to celebrate with someone special, give them an unexpected dose of encouragement when they're down…and provide a pleasant surprise in the mailbox when such a treasure is discovered among the junk mail and never ending bills!
I think the most important thing that I have learned over my years of paper crafting is that we all have our own individual and unique styles…and the style you have is authentic to your likes and personality…it doesn't need to be changed or mimic the other styles you see around you! You do you! We are also all at different points in our crafting adventures, and I love to teach and encourage crafters to try something new, break a technique down for them so they can build confidence to try a new idea, etc. As crafters we all continue growing in our creativity, learning new techniques, etc. but the goal is always to have fun, manage stress and create something beautiful! This is what I hope to bring to you as I share my creations featuring Amazing Paper Grace designs! As for me, I'm off to  tidy up in the craft room….oh, who are we kidding…I'll get down there, get distracted and the creativity will begin to flow and I won't be able to resist the impulse to create! I can't wait to share with you soon!
You can find and follow me at:
Blog: https://todaysbeautifulmoments.blogspot.com/
Instagram: https://www.instagram.com/beautifulmomentcards/
Pinterest: https://www.pinterest.ca/tfehr/_created/
Facebook: https://www.facebook.com/BeautifulMomentCards
Facebook Profile https://www.facebook.com/tracey.friesenfehr
Scrapbook.com: https://www.scrapbook.com/places/TraceyF