Flowers Flowers Everywhere!!

It is time for Flourishes Timeless Tuesday Challenge!!!!  Thanks so much for all who played along with us last week.  This week Dee Jackson is hosting the Timeless Tuesday Challenge.  She is challenging us to use flowers! Whether they are stamped, silk, real, punched, fabric, dried, crocheted, or clear, if it looks like a flower it is a flower!!!
My card uses one of the newly released Flourishes sets Signs of Spring.  The daffodil is a pleasure to color up.  Because the petals are so perfectly spaced out, I chose to stack them up in a tole like fashion to add some depth.  To me, this is one of the easiest ways to give interest to a focal piece and if you goof on part of your image, this is the one of the best ways I've found to salvage parts of it.  The sweetest little sentiment in the same set is the one chose to highlight with the daffodil.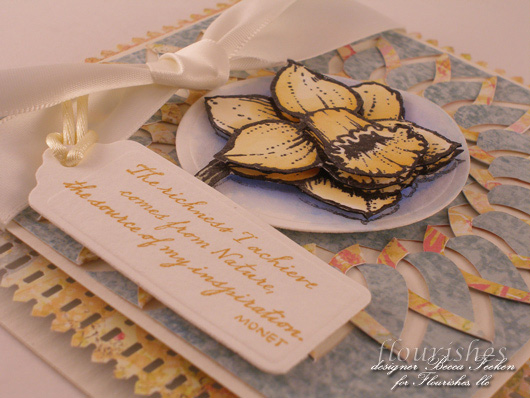 To make the card I cut a bordered panel using the Martha Stewart edger that looks like a picket fence.  Tip: Keep your eyes peeled for a tutorial next week on how to punch these in a perfect square and make the corners come out looking very neat. On top of this panel I layered a medallion cut with an Incire template.  I've had these in my stash forever and have played around with them, but this is the first time I've used them on a finished piece. (I haven't been able to find a good website to show these, but if you google them, many other examples will come up.)  Then I watercolored three of these gorgeous daffodil and cut them out.  The bottom daffodil is the complete flower.  The second daffodil is three of the petals and the center of the flower.  The top daffodil is just the center of the flower.  These are all stacked on a circle cut with my Spellbinders Standard Circles Large that I watercolored blue.  To finish I stamped the sentiment on Spellbinders Tag 5 and added ribbon and pearls.
Okay, I confess, I'm so ready for spring!!
Card Recipe:
Stamps:  Flourishes – Signs of Spring
Paper:  K & Co – Que Sera, The Paper Company – Blonde Columns, 140lb Strathmore Watercolor Paper
Ink:  SU More Mustard, SU So Saffron, SU Ballet Blue, Black Brilliance
Accessories:  Incire Lace Template #16, Martha Stewart Edger, Spellbinders Classic Circle Large, Spellbinders Tag 5, Black Embossing, Powder,  Ecru Cording, Pearls

P.S.  Thanks for all the kind words about my wonderful hubby.  You're right, he's a keeper *wink*!
Find more like this: Flourishes, Spellbinders, Stamping , becca bows