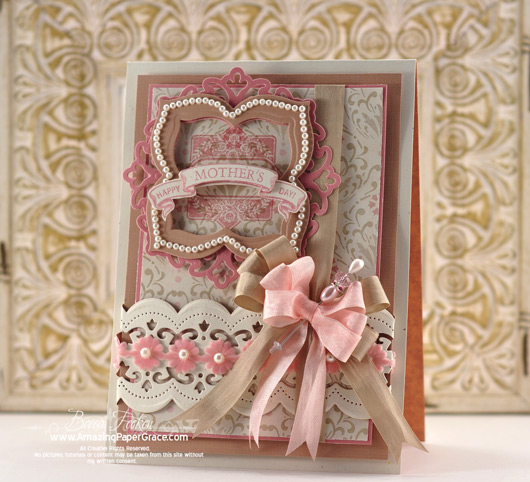 Good morning friends!  Where would we be without our sweet moms, right?  Are you all set for Mother's Day?  Yes, it's that time already and before you know it you'll be in the crunch to get her something a little special to let her know how you feel about her.  Miracle of miracles, I'm ready.  A big feat since I tend to be a little bit of a "Last Minute Lucy".  With one of my favorite color palettes I sat down to construct a feminine mothers card using a new set from JustRite Papercrafts called Vintage Rose Medallions.  I started out by creating paper lace using my Spellbinders Edgeabilities – I simply paired Spellbinders™ Classic Scallop Edgeabilities and Spellbinders™ Classic Decorative Inserts One to create one edge, flipped my work and did the same thing down the other side – it really creates a luscious lace!!  In my stash I had a sweet Prima trim with velvet flowers that fit perfectly down the center.
For the focal point on the card I simply stamped one of the Vintage Rose Medallions directly on my design paper.  Then, I cut a layer with Spellbinders™ Parisian Motifs and made a frame out of that layer by cutting using Spellbinders™ Labels Twenty Four – I took a couple of lines of pearls and laid them around the frame (easier than I thought it would be!).  After I cut an additional frame using two of Spellbinders Labels Twenty Four – I topped off with the sweet Mothers Day Banner from the Vintage Rose Medallion set.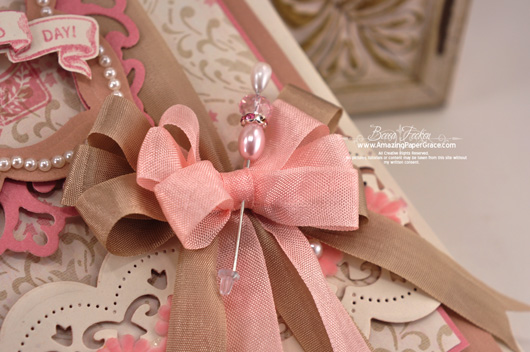 SUPPLIES I USED
Stamps: JustRite Papercrafts - Vintage Rose Medallions
Paper: Coredinations, Recollections Garden Floral
Ink: Victorian Velvet Distress Ink
Accessories:  Spellbinders™ Labels Twenty Four,  Spellbinders™ Classic Scallop Edgeabilities, Spellbinders™ Classic Decorative Inserts One, Spellbinders™ Parisian Motifs, Prima trim, ribbon,  Peg Bow Maker - double stacked bow, Recollections Pearls, Corsage Pin (Joann's), Pearl and Swarovski Crystal
Additional Ideas:  JustRite Gallery,  Spellbinders Gallery  

Don't forget I'm celebrating getting out of the house and going to a show in Akron by giving away Becca's Peg Bow Maker – read all about it HERE ;-)  Thanks for stopping by, see you soon!!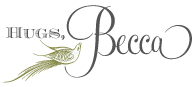 Find more like this: JustRite Stampers, Spellbinders