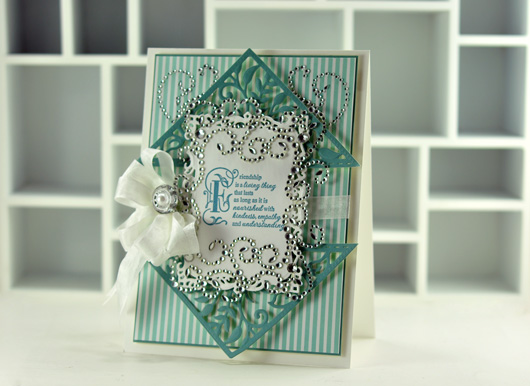 Hello there blog friends!  Oh how I've missed you!!  Tucked away in the frenzy of CHA (Craft and Hobby Association Convention), my head is simply swimming with everything I've seen and bordering on overload.  I have to say that it was a lightly attended convention but was brimming with new lines and lots of old friends – I even tucked in a class or two.   It was my highlight to get hugs from quite a few of you – you know who you are!!  My new stamps sets received a warm welcome and I'll just be honest, my confidence is boosted!   Believe it or not, I had cards prepared to show while I was away and simply didn't get time or have the internet access to get them up.  I thought I might peek in today and share a card I made using one of my sets by JustRite Papercrafts called Vintage Filigree Fancies and several of the new Spellbinders.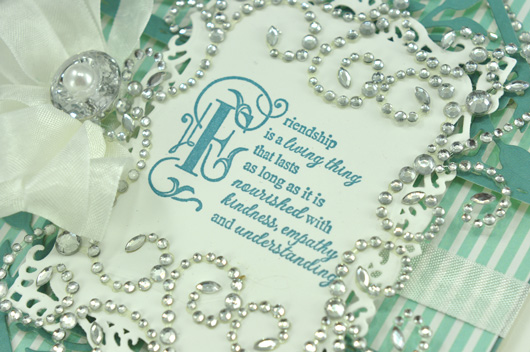 Blinged out a little bit more than normal, I'm using the new Spellbinders™ Decorative Labels Eight along with Spellbinders™ Botanical Swirls and Accents.  I searched in my stash for some Prima bling and honestly it takes this very simple card and zooms it another level.  I mounted two  panels from Botanical Swirls behind a Decorative Labels Eight Panel – that's it!  On the edge, a seam binding bow made with the Peg Bow Maker and a crystal to match the bling.  I normally use pearl bling but think that the crystal bling is growing on me
Unpacking and taking care of a water mishap that happened while away, but so thankful to be home and thankful to be through the series of heavy deadlines that kept me busy during May, June and July.  I'm feeling so creative, I hope you are too!!  Thanks for stopping by, see you soon!!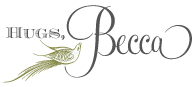 Find more like this: JustRite Stampers, Spellbinders