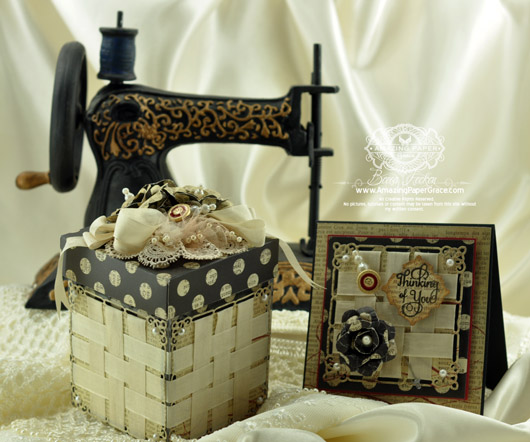 Sweet Friends, I have another ensemble to share with you today.  This is a project that I made back in the early part of June and I could just kick myself because I was in such a hurry that I didn't take enough pictures to show the surprising part of the creation (stay tuned below).  Well, as you can guess, this ensemble features Spellbinders™ Marvelous Squares.  I was so intrigued by the loops on the sides of the design and how they just coincidentally were just the right size for ribbon, that I spent a lot of time experimenting with weaving using that die template.  I love the results.  This is the easiest weaving you'd ever want to do because as soon as you get started, you are done!!  Several years ago I made a woven creation that was a little bit more involved (HERE); this creation is 10 times easier.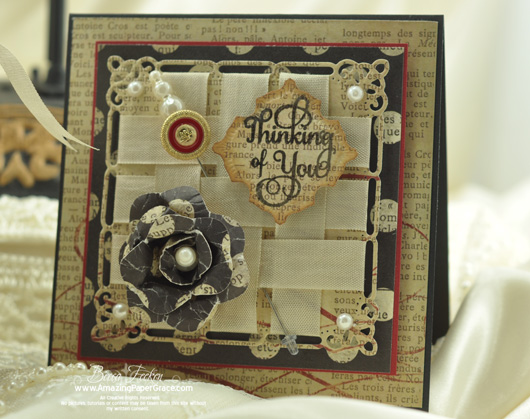 For the 4″ x 4″ card I used a great sentiment set from JustRite Papercrafts called Large Fancy Sentiments.  I created my card base from the same papers used in the box then did the simple 3 by 3 weaving on the second largest piece from Spellbinders™ Marvelous Squares.  I finished up by adding the sentiment on foam tape, a flower made using Spellbinders Spiral Blossoms Four and pearls, of course.   It was so easy to add a pearl pic by just placing it inside the weaving.  Not sure you can do the weaving?  This is the simplest place to start – 6 pieces of ribbon and over, under, over or under, over, under as seen above.  The ribbon is simply taped on the back side.  Tackle this and you'll be a pro by the time it comes to making a box!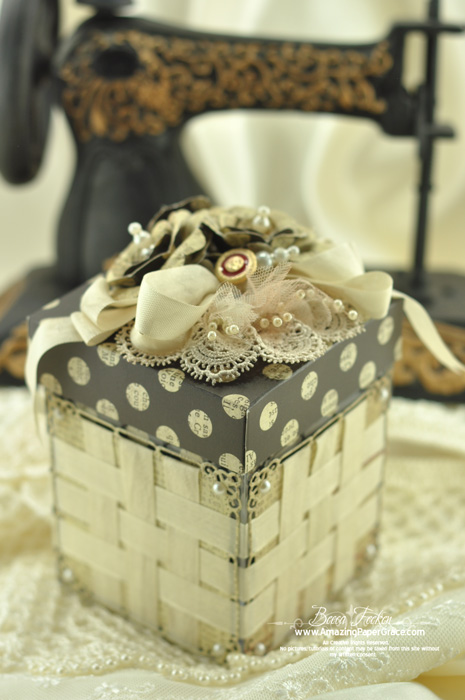 I'm always, always afraid that my boxes will become crushed.  This time I simply altered a box by covering it.  It's clear, my dear – It's a clear box from Hobby Lobby.  In my haste I did not take a picture of the original box but I will try to purchase another and add a picture and dimensions in the coming days.  This box was just the right size!!  I simply cut four sections of Marvelous Squares and wove three ribbons all four squares and then three ribbons were woven up and down on each square.  This creates a sleeve that can be slipped over the clear box and I added a couple of strategic glue dots to keep it on.  The inside is awesome.  I took four panels of paper sized to fit the box and dropped them in.  The lid is a standard folded lid that once constructed I turned over and pressed the clear lid inside.  This is one tough baby and it won't cave in!!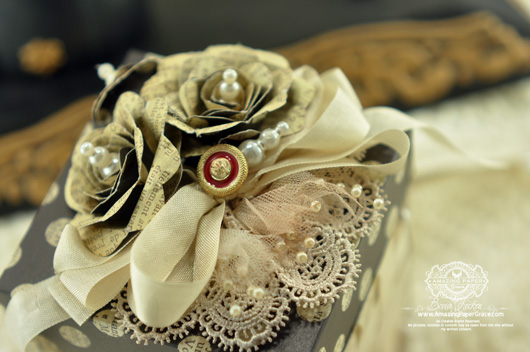 The lid is decorated with Spellbinders Spiral Blossoms Four before adding some seam binding, tulle and lace.
Hope your weekend is going well!  Go ahead, be optimistic . . . something good is always on the way!!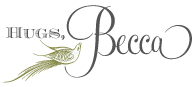 Find more like this: JustRite Stampers, Spellbinders, Stamping