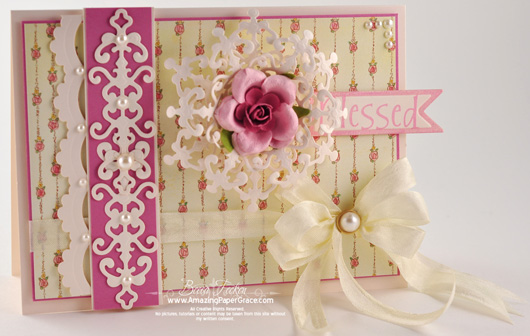 I could not wait, I could not wait, I could not wait to get my hands on this set of dies.  Can I say that this is one of my fav's and I think it will be one of yours too!!  Sigh . . . it just oozes with elegance and oh, the possibilities.  I knew my first stab would be something vintage looking and something to do with a flower.  What I've done here essentially is created a flower cup to seat a bloom in using Spellbinders S5-059 Ironworks Motifs.    This template works just as well on cards as on gift items (I'm working on my post for tomorrow which, if my crafty luck holds out, will be an ensemble using this template again). 

I'm following the sketch from Mojo Monday (Mojo 199) except rotated the sketch clockwise 90 degrees.  In following the sketch I put a border on the left hand side of the card using elements from Spellbinders S5-059 Ironwork Motifs, then created that neat swag using the new Edgeabilities – E8-001 (Classic Scallop) and E8-003 (Triple Scallop).  Who knew?  I didn't it I sat down this morning and started playing around – there are so many different combinations – I love this one.  My medallion was created using the largest element of the Motif set – I curled the edges on the first one and on the second one I interlocked the curlicues to maintain the structure of the cup.  They were then stacked together with foam tape.  I used the foam tape to add dimension and offset the layers.  I double stacked my foam tape in the cup before I nestled in that sweet flower.  What a joy to sit down and create this morning!!!  I have things waiting off in the wings to show, but since I was doing the sketch challenge I hadn't given any forethought to what to create because you really can't, right?!?  Pure serendipity :-)

Note: Many of you emailed to ask where you can get these new die templates. They will be available on the Spellbinders website on July 19th and will be shipping at the end of August!
Happy Monday sweet friends!!  I hope you have an amazing week!