Thank you for stopping by today. Today was a day of hubby's doctor appointments and errands as I get ready for my mother to visit for a week. The car has one headlight out plus the third brake light is out and if anyone would get stopped and ticketed, that would be me. A quick look at the car manual showed us that you practically have to remove the engine to get to the headlight. Since we were out and about, we decided to try to get the parts for the headlights and hopefully find someone to put it in since I'm not so mechanically inclined. No dice…after three parts stores and Pep Boys didn't have the part, this situation flipped over into my "more than I can handle category" and in a hot second we were on our way to the GM Dealer. Well, we thought it would only take about 10 minutes. Forty five minutes later they came back to tell me they didn't have the parts today, but that when they were air expressed in (which I would have to pay for) they could get both lights in for about $200.00. I departed quickly….."deer in the headlights" look and all. I found the parts at Walmart for $11.00 and tore all the stuff off the engine that car manual said, put the light in then did the happy dance in my yard for all the world to see. I am so empowered today and I sure hope my hubby lets me have some of the money I saved for my stamping addiction!!!!
On to today's card…back in March I decided to participate in the Divine Design Challenge (BVC08). It is a Bible Verse Challenge where many stampers have made a commitment to offer a card on the 8th of each month that includes scripture that has special meaning to them. You can read more about the challenge on Lori Craig's blog here. I promised that I would make up the months of February and January, and todays card is for one of those months.
My starting inspiration was the scripture and then I realized I had this Stampers Anonymous Angel Collage that had never seen ink; I felt she would be perfect. The card is a 6" x 6" tri-fold card. Upon opening the card you see Psalm 23 and then if you open again, there is a healthy space to write a personal note.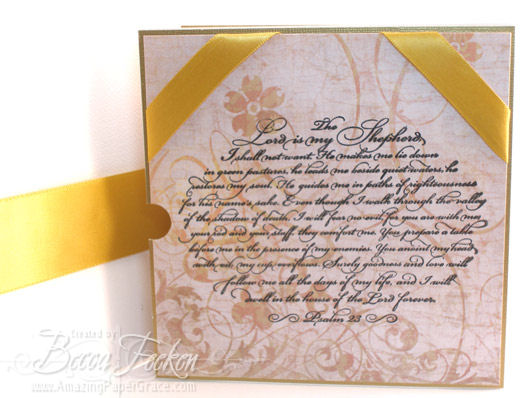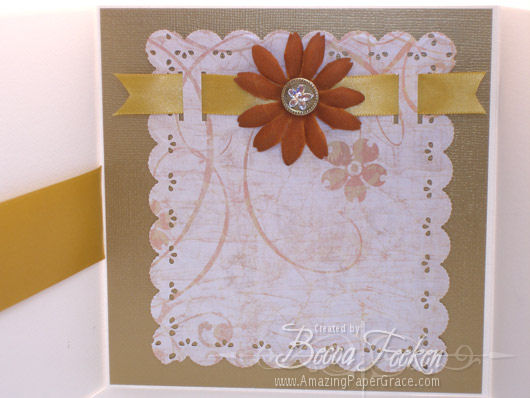 To color the angel I stamped her twice with Black Stazon in on acetate. I colored her hair and skin with Copics, making sure not to use the inked side of the acetate as the Stazon would smear. Then on the stamped side of the acetate I colored the angels wings, robe and the wrought iron with Pearlescent Liquid Acrylic (this is so very shimmery although the picture doesn't show it or do it justice). On top of that I layered the other clean image that I had stamped with the black Stazon – this made the image really pop, gave it a little bit of dimension and covered up all my painting boo-boos. Painting behind acetate is so very forgiving and was the only way I knew to even tackle this stamp. To color the halo I used Art Institute Glitter (white) and glue.
Supplies:
Stamps: Stampers Anonymous – Angel Collage; Stampabilities – Psalm 23
Paper: The Paper Co. Decorative Paper – White Embossed Swirl; The Metallic Stack – Gold; The Luxury Stack
Ink: Stazon – Black, Versafine – Black; Pearlescent Liquid Acrylic – Gold, Silver Pearl, Birdwing Copper
Accessories: Art Institute Glitter, Krylon Goldleaf Pen, Copics, Ribbon, Acetate, Brads, Prima Flower, Bling
Wow, what a long post….thanks so much for stopping by and have an excellent Memorial Day Weekend.