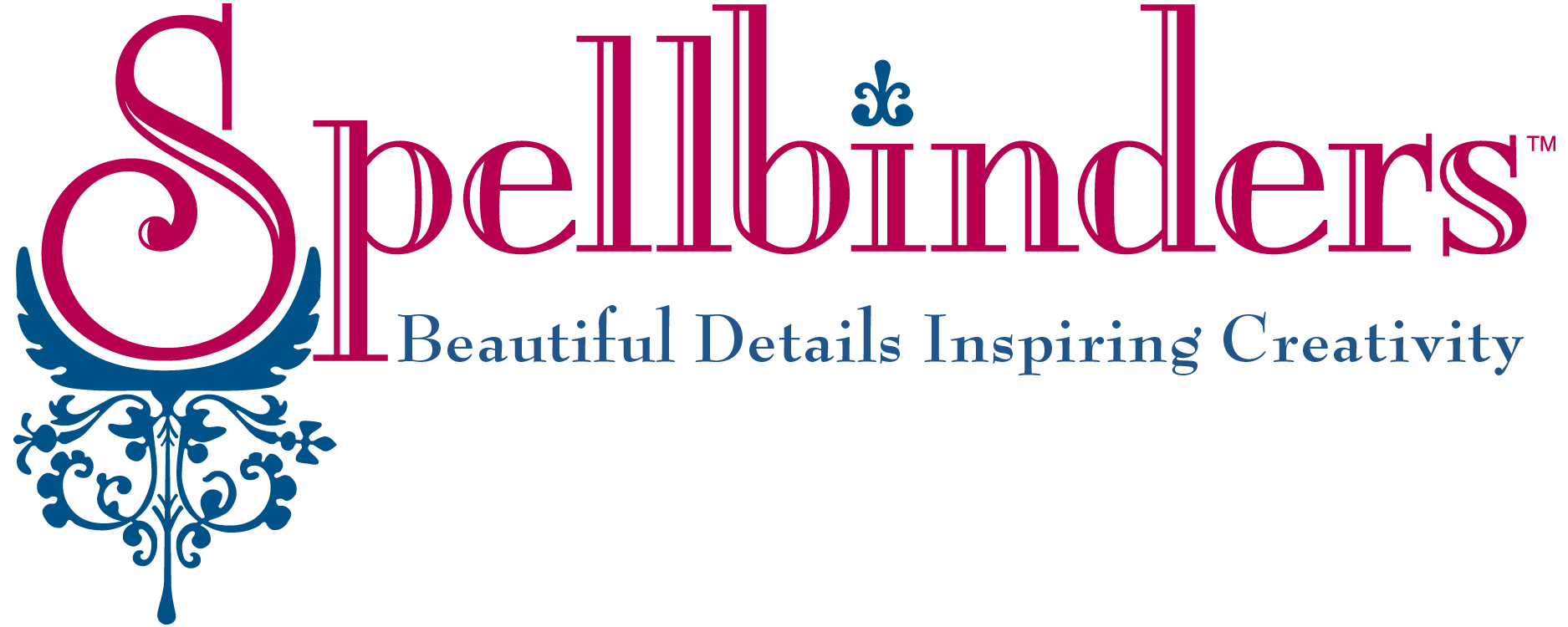 Commenting on this post is welcome but does not enter you into the contest. This contest is sponsored directly by Spellbinders Paper Arts. Please read the post to find directions for entering the contest. If you have any questions, please e-mail ContestQuestions@spellbinders.us.
---
Edited to Add: Thanks to everyone who entered the Spellbinders' 5th Anniversary Party to win my Die Template release. You can no longer enter to win my release. Please check out the links below to enter the contest on other blogs.
Check the Spellbinders Blog for the announcement of Daily Winners. Grand prize winner will be announced on January 30th
One of the soaring highlights in blogland last year was the huge release of new Spellbinders dies. I scheduled time every night to check in with each blogger that was making a reveal of a new Spellbinders die and absolutely swooned when I saw the fabulous dies that were slated to be released. Spellbinders is celebrating their 5 year anniversary and the celebration will be another huge unveiling of new dies. There is an opportunity for you to win, and win big! I am pleased to be able to share details of the amazing Spellbinders Blog Frenzy!
Here's what you will want to know: These dies can only be seen on Spellbinders Designer blogs and there will be 16 days chocked full of sneak peeks. Today there will be a drawing for the die template I am showing you plus all the sets that have been revealed since the beginning of the Spellbinders Blog Frenzy on January 5, 2009. The prizes are progressive, each day an additional die is added to the daily giveaway list for a grand total of 16 dies on the 16th day of reveals. You will want to take care and read my entire post carefully, from beginning to end, to make sure your entry is correct, ensuring your eligibility to win.
Now if you have just landed here and haven't followed the Blog Frenzy from the beginning, let me get you oriented. Debbie Olsen of Thinking Inking kicked off the festivities on January 5, 2009. You can jump back to Debbie's blog to see the entire schedule including those that have come before me. Here is the schedule of the remaining sneak peeks of Spellbinder new releases. You still have until 11:59 pm CST, January 10th to register for the prize drawing from yesterday on Heidi Blankenship's blog at www.embellished-dreams.blogspot.com.
Blog Schedule
Jan. 11 Jennifer Ellefson
http://createdfrompaper.blogspot.com/
Jan. 12 Sharon Harnist
http://paperfections.typepad.com/
Jan. 13 Jeni Calkins
http://studiojeni.blogspot.com/
Jan. 14 Wendy Weixler
http://wickedlywonderfulcreations.blogspot.com/
Jan. 15 Beth Pingry
http://bethping.blogspot.com/
Jan. 16 Keri Lee Sereika
http://pinklemonade.typepad.com/my_weblog/
Jan. 17 Sally Lynn MacDonald
http://inkyheart.typepad.com
Jan. 18 Donya Schroeder
http://donyas.typepad.com/puckish/
Jan. 19 Linda Duke
http://lindaduke.typepad.com/lindas_works_of_heart/
Jan. 20 Trudee Sauer
http://trudee.blogs.splitcoaststampers.com/

WINNERS WILL BE ANNOUNCED ON SPELLBINDERS BLOG at www.SpellbindersPaperArts.com/blog
Without further ado, I am so pleased to be able to reveal die cut templates that absolutely had me doing a little happy dance! The awe-inspiring Spellbinders has done it again – I present to you two new die template sets.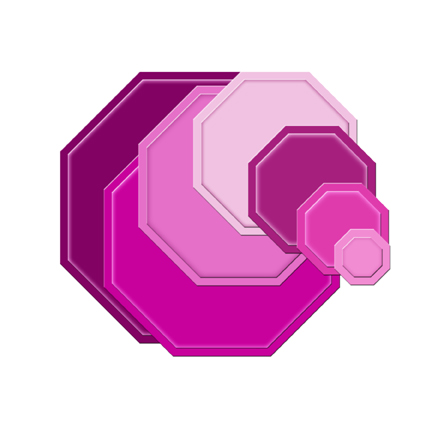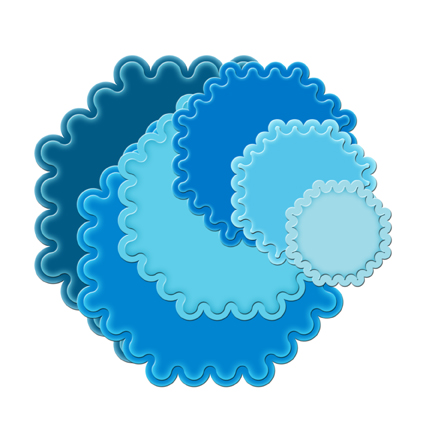 LG Octagons, SKU #S4-185 and LG Scalloped Octagons, SKU #S4-187. MSRP – $24.99 each
The octagon is such a complex shape full of possibilities. I knew it would be one of my favorites because it's a shape that I encountered often in both origami and quilting – areas that always lend inspiration to my stamping. The LG Octagons come in a set of 7 nested dies that are symmetrical in a circular shape with eight flat sides. The largest die measures 4" x 4" while the smallest measures 3/4" x 3/4". The SKU # of the LG Octagons is S4-185 and the MSRP is $24.99. The LG Scalloped Octagons come in a set of 6 nested dies that are symmetrical in a circular shape with four scallops on each of the eight sides. The last scallop on each side is the first scallop of the next side. Each scalloped octagon, regardless of size, has 24 scallops. The largest die measures 4 1/2" x 4 1/2" while the smallest measures 1" x 1". The SKU # of the LG Scalloped Octagons is S4-187 and the MSRP is $24.99.
I have two projects to share with you today. On the first project, I'll share with you how I made it and on the second, a video tutorial will be forthcoming. When I received my dies, I was intrigued by both shapes together and that led me to the inspiration for this "Give Thanks" card. The straight edges of the LG Octagons crisply illuminate the feminine scallops of the LG Scalloped Octagons; the two shapes mesh very well.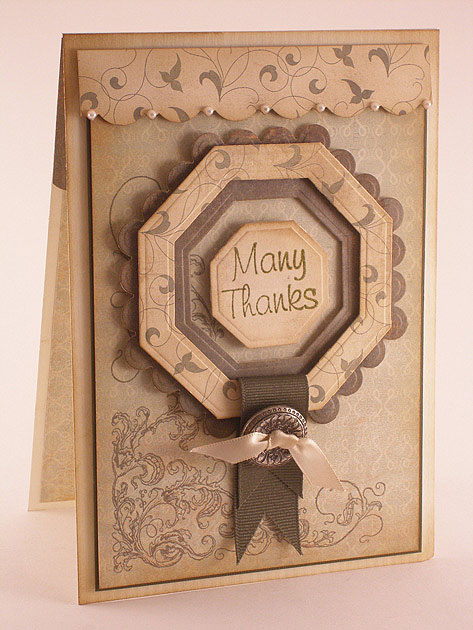 My Many Thanks card is a large card measuring 7 ¾" high by 5 ½" wide and is designed to be sent using a 6" x 9" catalog envelope. We'll make this card by building up from the bottom.
Step by Step
1. Score in half, a piece of cardstock measuring 15 ½" high by 5 ½" wide.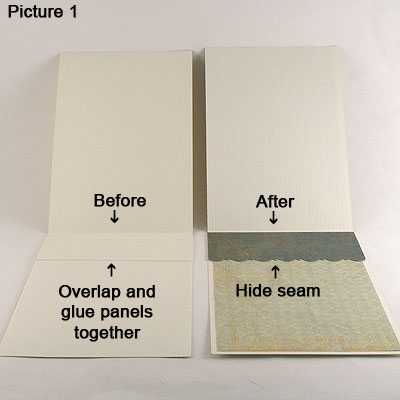 Tip – if you do not have paper larger than 12" you can still make a larger card by seaming the pieces. Cut one piece at 10" x 5 ½", score one at 7 3/4". Cut the other piece at 7 ¾" x 5 ½". Allow the flap to overlap and adhere with the seam showing on the inside, back of the card. Cover this with design paper on the inside of your card.
2. Smudge the edges of the paper with distress ink – I used brushed corduroy.
3. Cut a solid piece of cardstock to measure 7" high x 5" wide.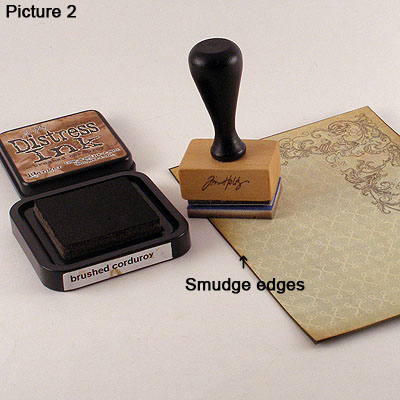 4. Cut a patterned piece of paper to measure 6 7/8" x 4 7/8". Smudge the edges with distress ink and glue the design paper on top. Attach to base with pop dots.
5. Cut a small strip of paper 5 ¼" wide by 2" and punch with a border punch. Trim down to a 1" height and attach along the top edge of your card. Smudge with distress ink and add pearls for embellishment. Attach with pop dots.
6. Cut/emboss the first layer of medallion using the 4 ½" x 4 ½" LG Scalloped Octagon and the 2 ½" x 2 ½" LG Octagon at the same time.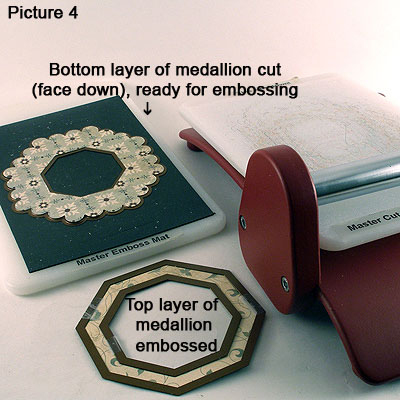 7. Cut/emboss the second layer of the medallion using 4" x 4" LG Octagon and the 3" x 3" LG Octagon at the same time. Smudge with distress ink.
8. Cut/emboss the inside layer of the medallion using the 1 7/8" x 1 7/8" LG Octagon.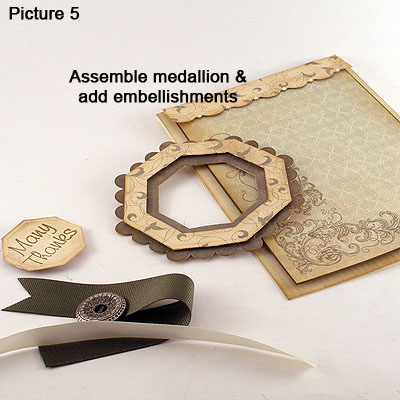 9. Stamp your sentiment then assemble the medallion with pop dots, taking care to thread a 5" piece of ribbon through the top layer of the medallion, securing it with a button.
Card Recipe:
Stamps: The Paper Company Studio
Paper: Base – The Paper Company, Blonde Columns, Design Paper – The Paper Loft: Grandma's House, Bazzill – Capers
Ink: Ranger Distress Ink – Peeled Paint, Ranger Distress Ink – Brushed Corduroy
Tools: Spellbinders Wizard Die Cutter, Spellbinders LG Octagons S4-185, Spellbinders LG Scalloped Octagons S4-187, Martha Stewart Cornice Edge Punch,
Accessories: Michaels Pearls, JBH Button, Offray Grosgrain Ribbon, Hobby Lobby Cream Satin Ribbon, Pop Dots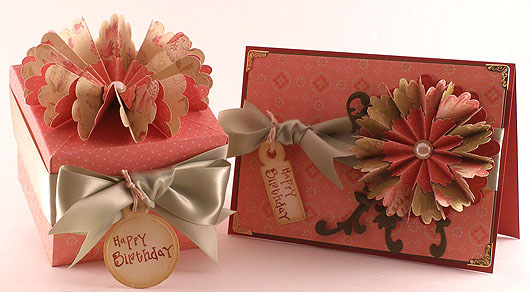 My second project is a card and gift box ensemble. You know I love medallions and I have been dying to create one using Spellbinders products. This one is easily put together and because you can use any size LG Scalloped Octagon, S4-187, it will span many different box and card sizes. The birthday card is 7" x 5" and the medallion measures 3 1/4" x 3 1/4"; the gift box measures 4 1/4" x 4 1/4" x 4 1/4".
Although I mentioned using the Wizard in my card recipe, I wanted to make sure you know it's very simple to use Spellbinders die templates with other popular die cut machines currently on the market. Instructions and sandwich recipes come with new die cuts and that information is readily available on the Spellbinders website. In fact, if you are a visual person like I am, there are three wonderful videos by Spellbinders that show how easy it is to get fabulous results using their universal dies.
Check them out on their website at www.SpellbindersPaperArts.com/videos

Now, for all the details on the BIG CONTEST!
Spellbinders 5 Year Anniversary Celebration
Sneak Peek Party Drawing Information
Spellbinders will randomly pick one entry from each of the 16 Spellbinders Sneak Peek Blog reveals as stated in the "Rules". This name will be drawn to receive the die being revealed and any other dies listed as a part of said blog give-away. These entries must follow all rules stated below to be valid for the drawing.
Entrants visiting all 16 Spellbinders 5 Year Anniversary Celebration Sneak Peeks Blog reveals and correctly entering their information into the 16 separate drawings, as described below, will automatically be entered into a GRAND PRIZE give away of a full set of all 28 NEW RELEASE dies debuting at the Winter Craft and Hobby Association Show in Anaheim, California, on January 25-28, 2009!
Rules
Any participant wishing to be included in the daily drawing for the Spellbinders Birthday Celebration Sneak Peek die give away must adhere to all of the following rules:
1. Participant must click on the provided link on Reveal blog to enter each individual drawing on sneak peeks between January 5 and January 20, 2009.
2. Participant must type in the subject line the name of the die being revealed.
3. Participant must send their entry for this blog before 12:00 midnight Central Standard Time on January 11, 2009.
4. Participant is only allowed to enter each of the 16 Spellbinders sneak peek blog give away drawings one time per sneak peek. Participant must use the same email address daily to be considered for grand prize entry, no exceptions. Please consider whether you will have access to the same e-mail address from January 5th through the 20th and plan accordingly.
5. Spellbinders Design Team members and employees are not eligible for drawings.
Any participant wishing to be automatically entered into the drawing for the Spellbinders 5 Year Anniversary Celebration Sneak Peek Grand Prize drawing, must enter the drawing from all of the 16 blog reveals and follow all the above rules.
Please note:
*Spellbinders will only use email information to contact the winner.
*Spellbinders will not share this email address with any other parties.
*Spellbinders will not use this email information for advertisements or communications
other than to contact the winner.
*If you wish to be included in further communications from Spellbinders, please go to their homepage SpellbindersPaperArts.com and sign up SpellbindersPaperArts.com for their newsletter.
If you have questions about the contest, e-mail ContestQuestions@spellbinders.us.


It was such a pleasure to share my sneak peek with you and I hope you make plans to visit each blogger for the remaining days of this fantastic Blog Frenzy! In the meantime if you have any questions about release information or rules please visit Spellbinders Paper Arts
Find more like this: Spellbinders