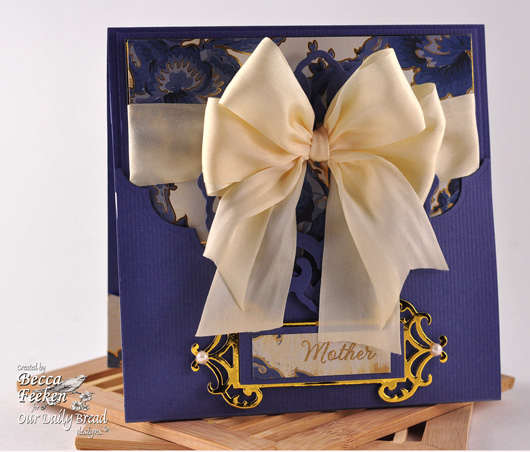 Hi there friends!!!  Today I thought I would have one more go at a Mother's Day Card.  I've wanted to make a pocket card for the longest time and today I finally did it.  Easy, easy, easy, and this one has a snazzy cut out!  On my 6″ x 6″ card, I first designed the pocket and made the cutout with Spellbinders Grand Labels Four, making sure to emboss to get that nice professional edge.  At the bottom of the card I cut/embossed a tag from Spellbinders Fancy Tags Two to affix the word Mother.  Then I made a flat panel a little bit shy of 6″ and used Spellbinders Lattice Pendant and threaded a nice big bow through the panel; my sentiment is on the back!  The recipient will pull the card and flip the panel around to find a nice long verse that I would have had trouble fitting on the front :-)  (By the way, I used the other part of the cutout that makes to pocket as a part of the panel on the back – no wasting, right!?!).  This solves a problem I have a lot of time in that I love huge stamps.   Once you stamp, there's no place for a sentiment — ha-ha, now I can use a pocket card to have my cake and eat it too!!

For this card I'm using a newer set (Mother's Day) and an older set (Mom) from Our Daily Bread Designs; they were made to work together and have the same font set up so that if you purchased the Mom set last year – you'll get more to use with it this year.  I love the scripture and I hope it makes for a card that may be kept around, perhaps as a memento.
Of course this style is great for invitations and such but who needs to wait for a party?  I'm gonna go back and haul out some of my larger stamps and big sentiments and give this another whirl :-)
Hugs to you all!!  I'll see you soon!